The Sensor Medica Spine 3D system, distributed exclusively in the UK by Axisage, is a game-changer for chiropractic practices.
With advances in technology, chiropractors are now able to offer their patients even more effective and efficient treatment options. One of these breakthroughs is the 3D spine assessment, an innovative approach to evaluating spinal health.
The Limitations of Traditional Spine Assessment Methods
Traditional methods of assessing spinal alignment, such as X-rays, manual palpation, or visual examinations, have several limitations. For one, they often provide only two-dimensional information about spinal alignment, which can be insufficient for a comprehensive understanding of a patient's condition. Additionally, X-rays expose patients to radiation, posing potential health risks with repeated exposure.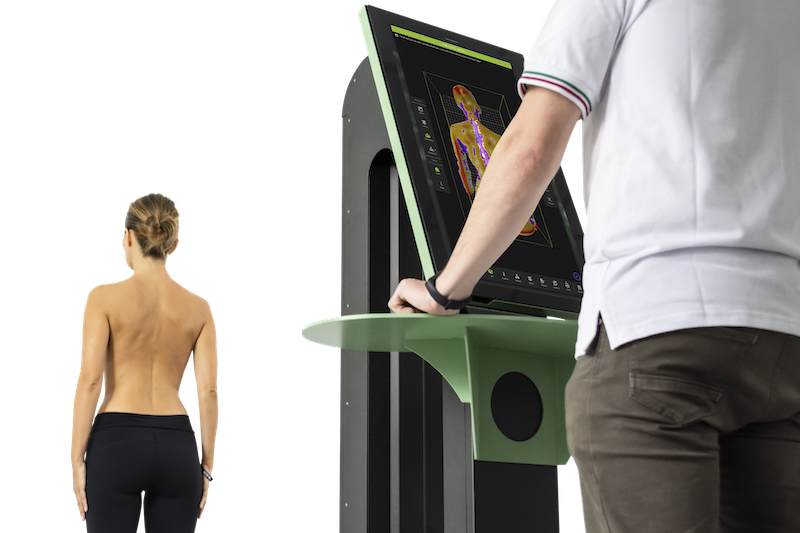 Enter the Sensor Medica Spine 3D System
The Sensor Medica Spine 3D system is a cutting-edge technology that overcomes many of the limitations of traditional spine assessment methods. Using an advanced LiDAR scanner, it captures detailed and precise information about spinal alignment in all three planes: coronal, sagittal, and transverse. This level of accuracy enables chiropractors to diagnose and treat their patients more effectively, leading to better patient outcomes.


Non-Invasive and Radiation-Free Assessment
One of the most significant benefits of the Spine 3D system is its non-invasive and radiation-free approach to assessing spinal health. This is particularly important for patients who require regular assessments, such as those with scoliosis or other chronic spinal conditions. By using a safe and comfortable method, chiropractors can monitor their patients' progress without exposing them to unnecessary risks.

Improved Patient Education
The detailed reporting provided by the Spine 3D system not only aids chiropractors in diagnosing and treating their patients, but it also serves as an invaluable tool for patient education. With clear visuals and explanations, patients can gain a better understanding of the nature of their spinal condition and the treatment options available to them. This increased understanding can lead to improved patient compliance and satisfaction with their care.

Competitive Advantage for Your Practice
In the highly competitive world of chiropractic care, embracing cutting-edge technology like the Spine 3D system can set your practice apart from the rest. By offering your patients the latest and most effective diagnostic tools, you can position your practice as a leader in the field. This can not only help you attract new patients but also improve patient retention rates, as satisfied patients are more likely to return for ongoing care.

Return on Investment
While investing in advanced technology like the Sensor Medica Spine 3D system may seem costly upfront, the long-term benefits can far outweigh the initial expense. By providing more accurate diagnoses and tailored treatment plans, chiropractors can improve patient outcomes and satisfaction. This, in turn, can lead to increased patient referrals and a growing practice. Furthermore, the non-invasive and radiation-free nature of the Spine 3D system can appeal to patients who are seeking safe and effective alternatives to traditional diagnostic methods.

Ease of Integration
Another advantage of the Sensor Medica Spine 3D system is its ease of integration into existing chiropractic practices. The system is designed to be user-friendly, with an intuitive interface that makes it simple for practitioners to learn and use. This means that chiropractors can begin reaping the benefits of 3D spine assessment without a significant learning curve or disruption to their current workflow.

Ongoing Support and Training
When investing in new technology, it's crucial to have access to ongoing support and training to ensure that you can make the most of your investment. Axisage, as the exclusive distributor of Sensor Medica products in the UK, is committed to providing chiropractors with the support they need to successfully implement the Spine 3D system into their practice. This includes comprehensive training, ongoing technical support, and access to a network of professionals who are experienced in using the technology.

A Holistic Approach to Chiropractic Care
By incorporating the Sensor Medica Spine 3D system into their practice, chiropractors can enhance their holistic approach to patient care. The detailed information provided by the system allows practitioners to take into account the full complexity of a patient's spinal alignment, leading to a more comprehensive understanding of their condition. This enables chiropractors to develop treatment plans that address the root causes of a patient's pain or discomfort, rather than merely treating the symptoms.

In summary, the Sensor Medica Spine 3D system is a game-changer for chiropractic practices, offering numerous benefits that can significantly improve patient care and outcomes. By investing in this cutting-edge technology, chiropractors can position themselves as leaders in their field, attract new patients, and ensure the long-term success of their practice. Don't miss the opportunity to transform your chiropractic practice with the power of 3D spine assessment.